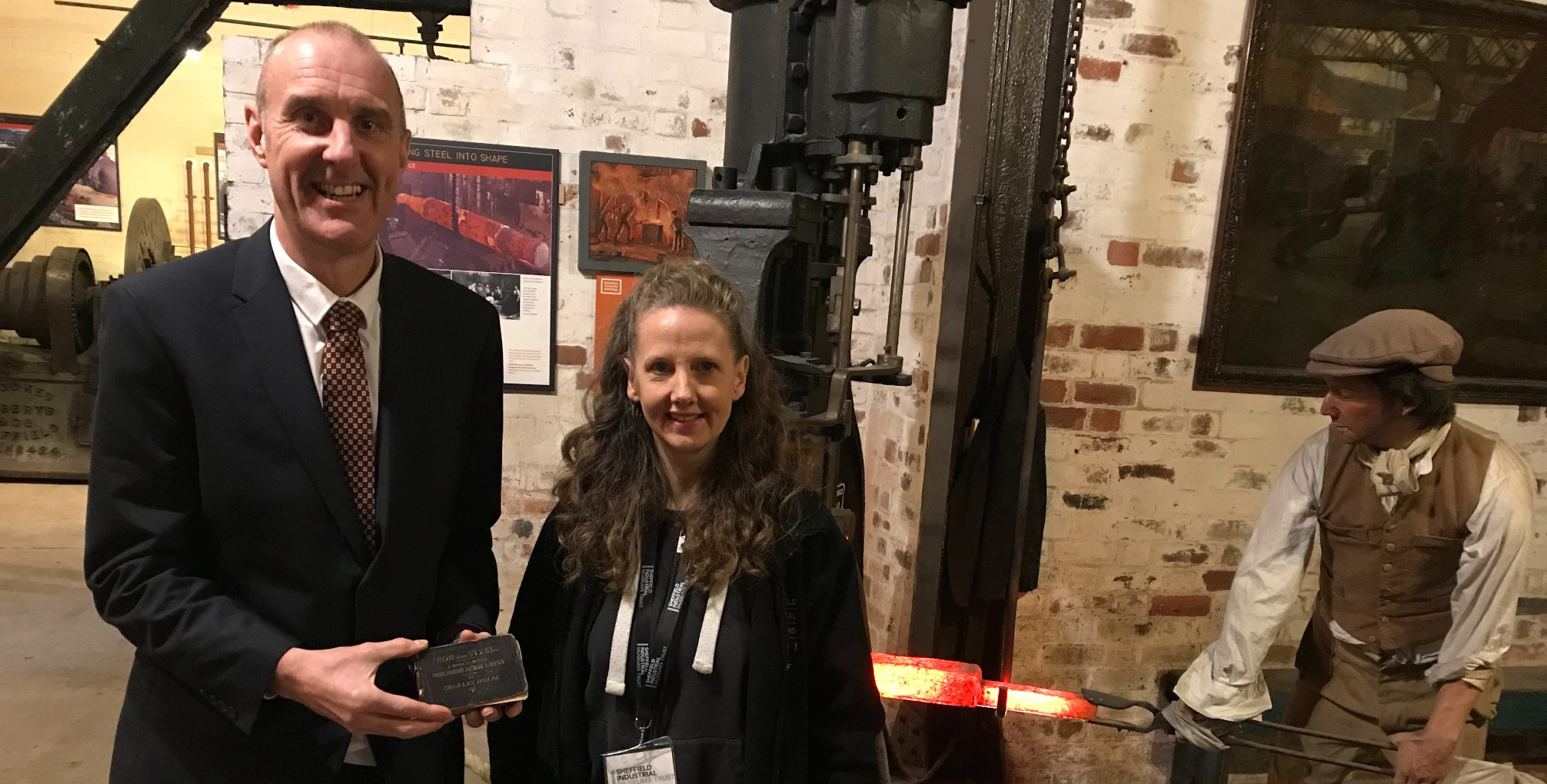 Last week, our Sales Director Darren Pryce, met up with Catherine from the collections team at Sheffield's Kelham Island Industrial Museum to re-visit a book that his family had previously donated.
Around 10 years ago, Darren handed over a fascinating piece of his family history to the museum. Originally published in 1876, the 'Iron & Steel – A work for the forge, foundry, factory & office' book belonged to Darren's Grandfather Ernest Pryce, a metallurgist who worked in the steel forging and rolling industry throughout the UK.
Ernest would have worked with this book to hand throughout the 1930's to the 1960's. A very useful aid for a forge manager back in the day, which would have assisted with calculations such as estimating weight, forging reduction, and dimensions of the forgings being manufactured on the hammers.  Interestingly, the book pre-dates Stainless Steel with the main focus being on alloy and engineering steels.
Being held in such high regard for his metallurgical 'know how' Ernest was recalled from active service during World War 2 to resolve technical challenges facing Tinsley Rolling Mills in the manufacturing of the rolled steel rings, which were being used for railway carriage wheels transporting troops and supplies to the front line.
The next and second generation to enter the world of metallurgy was Mike Pryce, Darren's father. Mike spent much of his career with Langley Alloys and Langley Forged Products. In his early career, Mike worked alongside his father Ernest in the development of Bronze Alloys and Copper Alloys.
He was heavily involved in the supply of rings for use in bearings and bushings into Rolls Royce jet engine programmes from the 1970's to 1990's.
In his later years, Mike was a key player in the development of the Super Duplex grade 'Ferralium 255' and recalls this material grade being used for the refurbishment of the Statue of Liberty in New York back in the 1980's. His last journey in forging was at Langley Forged Products in Sheffield overseeing the installation of the 30 CWT and 20 CWT hammers, which are still in operation today under the ownership of Special Quality Alloys Ltd.        
Mike is well remembered by some of our current colleagues, customers, and sub-contractors who worked with him over the decades.
Which brings us to the third generation of the Pryce family to work within the steel forging industry. Darren Pryce our Sales Director here at Special Quality Alloys is in his 34th year in the industry and continues the legacy of selling forged and ring rolled products manufactured in Sheffield to our customers around the world.
"When I first started working in a forge both my grandfather and father were customers of mine and this is the time where I probably understood the need for high levels of customer service! When all three of us were together for family Sunday lunches, the topic would always turn to forging or rolling...the passion of steel is definitely in the blood!"
"This has been a really enjoyable experience for me personally and a story I have been really proud to tell. I still have a good few years left yet and maybe one of my three children will make the 4th generation of the Pryce family to enter the world of steel forging!"