Read about our connection to one of golf's fastest rising stars...
This is a great local success story of which the Special Steel Group have been proud to support.
A few years ago, we were very keen to support one of Sheffield's up and coming amateur golfers, Matt Fitzpatrick. Since then, Matt has gone on to have a very successful start to his professional career which has seen him win 5 European Tours and push his world ranking up to 25th place!
Matt played golf at the Hallamshire Golf Club here in Sheffield, where our chairman Alan Beardshaw was previously captain. Having supported a number of amateur golfers, it seemed fitting to support Matt in his early days and it was therefore great to see a player finally breakthrough. A part of this support was the donation of a car to enable him to attend training and competitions across the country. As Matt's career progressed and despite his success, when back in the UK, he still drives the same old Ford Mondeo we provided him back in his early amateur days! This has some notoriety amongst his fellow golfers with some referring to him as 'Mondeo Matt!'
As a thank you for our sponsorship, Matt added our group logo to his bag for the US OPEN in 2019, before donating it to us where it is now proudly displayed in our head office reception.
Here is our chairman, Alan Beardshaw pictured with Matt in the Special Steel Group reception here in Sheffield.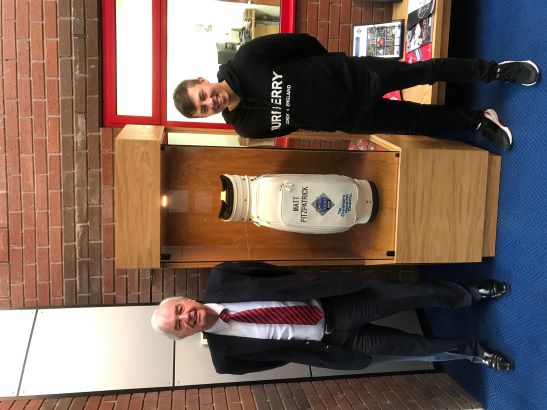 Here is a summary of Matt's journey in the sport taken from his own website. Very impressive I am sure you will agree!
Matt has quickly risen to the top of the golfing world. He started by winning the 2013 U.S. Amateur Championship and was ranked Number One in the World Amateur Golf Rankings at 19 years old.

Matt also received low amateur honours at both the 2013 Open Championship and the 2014 U.S. Open Championship, the first amateur golfer since Bobby Jones to finish low amateur at both events.
Matt's maiden European Tour title came at the 2015 British Masters supported by Sky Sports. 
He holed a nerve-shredding putt at the 18th to win the season-ending 2016 DP World Tour Championship by a single shot from Tyrell Hatton - his second European Tour victory of the 2016 season following the Nordea Masters. Having already competed as the youngest member on the European Team at the 2016 Ryder Cup, Matt's early experience demonstrates a long and successful career is just beginning.
Aged 23 Matt claimed victory at the 2017 Omega European Masters via a play-off. One year later, he successfully defended that crown becoming the first player since Seve Ballesteros 40 years ago to defend the Omega European Masters title. It also meant Matt became the youngest Englishman to reach five European Tour victories (24 years old) surpassing Nick Faldo's record.
We wish Matt all the best for 2020!